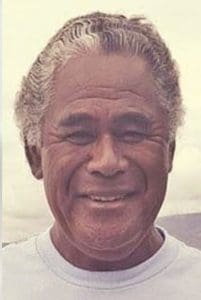 This article was originally published in the Maui News on February 2, 2017, and is posted here with permission by the Maui News.
Native Hawaiian cultural practitioner Kimokeo Kapahulehua will explain his vision for his foundation at the Maui Native Hawaiian Chamber of Commerce membership dinner, beginning at 5:30 p.m. Feb. 15 at Maui Tropical Plantation in Waikapu.
The Kimokeo Foundation, which launched in December, has a mission to "preserve and perpetuate the Native Hawaiian culture, its traditions, practices and language and Maui's environment through educational programs that benefit the people of Maui."
Kapahulehua is known as a kupuna with deep knowledge of the aina, its people and Native Hawaiian culture, according to the news release. As a community leader, he has worked to inspire youth to understand and perpetuate the Hawaiian language and cultural traditions. He is especially beloved in the canoe community for his work with canoe clubs and Hui o Wa'a Kaulua, the educational nonprofit that built Maui's voyaging canoe, Mo'okiha o Pi'ilani.
Ho'apili Ane will cater the buffet dinner.The cost is $25 for members and $30 for nonmembers. Reservations must be paid in advance through PayPal at the website www.mnhcoc.org or by phone at (808) 757-3045. The deadline to RSVP is February 13.