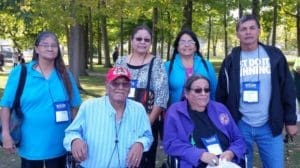 "The Savvy Caregiver Program" is a FREE seven session course presented by the Alzheimer's Association, NM Chapter will be held each Thursday from April 6th – May 18th from 5:30pm – 7:30pm. The event will be hosted by the Alzheimer's Association Office, 125 N Main Street, Ste. 103, (Inside Conference Room, Community Enterprise Building), Las Cruces, NM, 88001.  The class is free and open to all citizens of Las Cruces and surrounding communities.
To register, or for more information, contact – Candace Thomas at (575) 520-3995,  cthomas3765@aol.com or Tina De La Luz at (505) 266-4473, tdelaluz@alz.org.
This evidence-based training aims to teach caregivers practical techniques for interacting with loved ones with Alzheimer's disease, and for understanding and managing their behavior. It also imparts tools for long-term planning and for reducing stresses common to Alzheimer's caregivers. The course explains the signs, impacts and pathology of Alzheimer's disease.
Class size is limited and they do fill up quickly.  Call now to register.  Participants of the Savvy Caregiver Program may be reimbursed for the cost of having others tend to their loved one while they attend the classes.