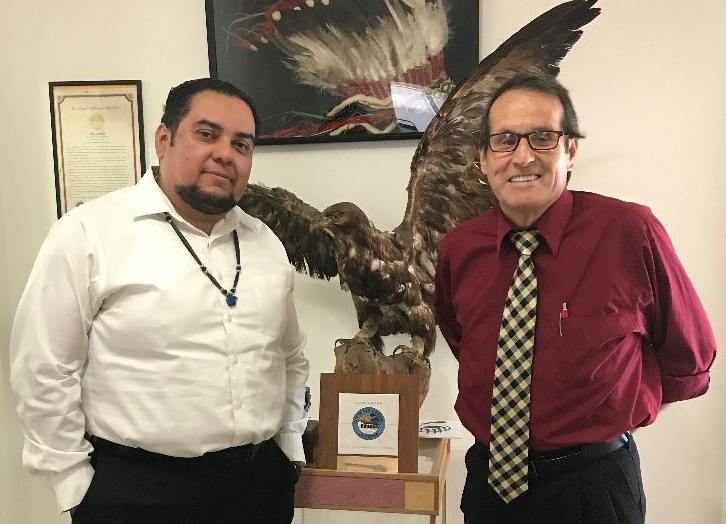 Jose Mosqueda trained at the Puku Cultural Community Services Center as a Caseworker Assistant. During his time in SCSEP Mosqueda gained many skills making him a critical part of the Puku Cultural Community Services Center. When he exited the Senior Community Service Employment Program (SCSEP) he was later was employed by Puku Cultural Community Services. He continues to be a critical part of their everyday mission and helping others. He shared that SCSEP has provided him the opportunity to help others and has made a difference in his life.
As Mosqueda states, "My personal experience with NICOA, has been rewardable, due to not just learning to manage computers, but NICOA also gave me the opportunity to serve people like Native Americans and learn about their culture, needs, and history…NICOA also provided me the opportunity to return to the work force and at same time change my living environment…NICOA did not just do all that, but provided the opportunity to meet more people like the host Fernandeño Tataviam Band of Mission Indians/Puku Cultural Community Services…I am thankful to Mr. Rudy Ortega Jr. Executive Director and Mrs. Elisa Ornelas Financial Director, both have been so patient helping NICOA participants with any question we have had from the beginning…I sincerely appreciate the opportunity NICOA has given me."
About SCSEP
NICOA, through SCSEP, is part of a network of national organizations and state governments that offer a federally assisted job training program focused on the needs of low income older adults. SCSEP is authorized by the Older Americans Act Title V and administered through grants from the U.S. Department of Labor. NICOA, which has been a grantee since 1989, is an agency serving American Indian elders with funds set aside specifically to serve that population.  SCSEP fits well within NICOA's overall mission to advocate for improved comprehensive health, social services, and economic well-being for American Indian and Alaska Native Elders.
The goals of SCSEP are to transition participants into unsubsidized employment so that they can achieve economic self-sufficiency, and to promote useful opportunities in community service.
For more information on NICOA SCSEP visit https://nicoa.org/for-elders/economic-well-being/job-training-for-older-adults-scsep/