As Indian Country sits upon a hill overlooking the valley below, what does it see? What does it hear? And most of all, what does Indian Country feel about what is occurring below?
Over the last few months, we are realizing that what we think we see is not what we see. What we think we hear is not what we are hearing. We think we are aware of things around us but find that reality is far different than our senses inform. It is these times that we re-evaluate, find ways to re-calibrate and form new ideas. We at the National Indian Council on Aging (NICOA) are constantly evaluating, questioning and challenging what we think is around us: politically, programmatically and philosophically.
It is through this process that we find creative and innovative ideas — ideas and positions that challenge our existing paradigms. We are not complacent and comfortable with the present because the future is here. Over 300,000 Indian elders are out there today. They experience pain, love, sadness, happiness and through all this, they remain hopeful and determined to ensure that the younger generation maintains their culture, language, traditions and spirituality into the distant future.
In the next decade it is projected that this population will exceed 500,000. As the next generation of elders succeed the preceding generation, their values and characteristics will change. This will require dismantling the assumptions made about the preceding generation and creating new ones. This is the future that NICOA sees and predicts.
Indian Country, Indian elders and tribal leaders should expect these changes and the uncertainty they bring. Uncertainty creates suspicion and fear. What will be the one major change to occur over the next few decades? One in three Indian elders will be diagnosed with Alzheimer's disease or dementia. They will require caregivers and with the increasing aging population, how we care for them will be the next issue facing tribes.
NICOA is currently advocating for increased funding for the reauthorization of the Older Americans Act and Title VI programs with an emphasis on caregiver programs. We and Indian Country can't do this alone — we must find others to help advocate for our cause.
This is what we, NICOA, see and hear. We need your help and support.
Larry Curley
Executive Director
The State of Tribal Elders
The National Indian Council on Aging (NICOA) grew out of the First National Indian Conference on Aging in 1976. Its board of directors represented Indian tribes and tribal elders from across the country.

In 1978, NICOA successfully advocated for the passage of Title VI of the Older Americans Act (OAA). In 1981, NICOA conducted a national study to determine which age tribal communities consider to be "elderly". The data led to tribes being able to self-determine the age at which they considered "elderly"; whereas, in the non-Indian world the age was established at 60.

After 43 years, NICOA is still advocating on behalf of the nation's tribal elders. It is recognized by other national aging organizations as the leading organization representing tribal elders and their needs. The following issues represent the State of Tribal Elders that NICOA is working to minimize, mitigate and ameliorate, but are a fraction of the overall needs.

The Issues:

Population: According to the Administration for Community Living/Administration on Aging (ACL/AOA), there were almost 600,000 Americans age 65 and over who reported they were American Indian in combination with one or more races in the United States.

Of this population, almost 260,000 reported being American Indian alone and over half (61 percent) reside in 10 states: Oklahoma (31,876), Arizona (25,539), California (23,058), New Mexico (17,983), North Carolina (14,233), Texas (12,406), Washington (9,800), Florida (8,792), New York (7,106), and Michigan (6,561).

It is projected that this population will grow to nearly 650,000 by 2060 — or almost 150 percent. This is the highest growth rate among all racial and ethnic groups.
Health: American Indian and Alaska Natives have higher mortality rates than other Americans for several conditions including chronic liver disease and cirrhosis (368 percent higher), diabetes mellitus (177 percent higher), unintentional injuries (138 percent higher), and chronic lower respiratory diseases (59 percent higher [Indian Health Services 2014]).

The need for long-term services and supports, based on the health status of American Indians and Alaska Natives, can best be demonstrated by the following:

Bathing: Twenty-two percent of American Indians age 65 and over require assistance as compared with 11 percent of the general population.
Dressing: Fourteen percent of American Indians age 65 and over require assistance as compared with 5 percent of the general population.
Eating: Ten percent of American Indians age 65 and over require assistance as compared to 3 percent of the general population.
Getting In/Out of Bed: Fifteen percent of American Indians age 65 and over require assistance as compared with 6 percent of the general population.
Walking: Thirty-two percent of American Indians age 65 and over require assistance as compared to 10 percent of the general population.
Income Disparities: American Indian and Alaska Native elders experience significant income disparities from the general population (AARP Research Report 2015-08).

Twice the percentage of older American Indians and Alaska Natives live below poverty as compared to the general population.
Among American Indian and Alaska Natives ages 50 to 64, 54 percent are employed as compared to 66 percent of the general population. Forty percent of American Indian and Alaska Natives ages 50 to 64 are not in the labor force as compared to 30 percent of the general population.
The mean total personal annual income for American Indian and Alaska Native elders age 50 and above is approximately $10,000 less than that of the same age of the general population, which equates to 25 percent lower income than the general population.
Caregivers: In recent studies by AARP and the University of Washington, it is estimated that among the general population, one in five older adults are diagnosed with Alzheimer's disease or dementia.

Among the elder Indian population in southern California, research found that one in three elder Indians were diagnosed with Alzheimer's disease or dementia. When extrapolated to the 300,000 Indian population, it is estimated that 100,000 (using the one in three finding) are diagnosed with this disease (or, using the one in five statistics, 60,000 Indian elderly diagnosed with this disease).

This population will require intensive and specialized care as the disease progresses. Currently, caregivers are family members who are untrained to provide this level of care. Additionally, this will undoubtedly put a strain on the caregiver, the family and the community mentally, physically and financially.
Administration for Community Living/Administration on Aging (ACL/AOA): In the past two months, the Administration has reassigned ACL/AOA staff to its central office in Washington, D.C. This will have a major impact on the timely receipt of training and technical assistance needed by Older American Act Title VI grantees in Indian Country.

Federal agencies are required to consult with Indian tribes on any action that would have an impact on their programs and this requirement is an acknowledgment of the unique "government-to-government" relationship that tribes have with the federal government. No tribe was consulted about the realignment.

Click here for additional information.
Mary Jo Hunter, a new member of NICOA's board of directors, decided to join after being asked by many people from the Midwest Region to be on the board during the 2019 conference.
Her goal is to bring the wants and needs of the Midwest Region to the full board. She is proud to provide Native elders with timely information about NICOA and says her main accomplishment this year has been to understand NICOA's history and role.
Some of the biggest challenges facing Native elders in her community are nursing home and assisted living shortages. There is no respite care available.
Additionally, Native caregivers have a lack of support, both financially and emotionally. She believes the political and social treatment of Native elders was improving ⁠— until President Donald Trump got elected.
"This administration is not in support of Native elders nor Natives in general," she says.
Thank You For Your Service
NICOA bids farewell to Marie Becenti, who retired after 25 years with NICOA. She was previously the grant compliance and records manager for NICOA's Senior Community Service Employment Program.
"It was very interesting to work with documents from many unique elders who were in training," said Marie. "The program is very complex, not boring and always busy. I felt proud to be able to give back to the Native people, as I have seen my parents struggle with the English language, which made it difficult for them to conduct any kind of business."
Marie grew up in the 1950s and 60s, with no running water or electricity. She lived in a hogan on the Navajo Nation before moving into a two-room house. She rode the school bus 30 miles each way to attend school and walked 10-12 miles from her home to the highway to catch the bus. "Sometimes we had to walk home if my parents were unable to pick us up at the highway," she said.
Proposal Submission for 2020 Conference Now Open

T
You are invited to submit a proposal to present at NICOA's 2020 American Indian Aging Conference. The conference will be held August 17-20, 2020 in Reno, Nevada at the Nugget Resort & Casino (1100 Nugget Avenue, Sparks, NV 89431).
Reno has been called "the biggest little city in the world" and is often described as a small Las Vegas. Located in northwestern Nevada near the California state line, Reno is the second largest city in the state.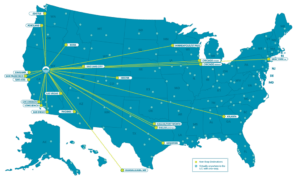 The Reno-Tahoe International Airport plays host to more than 100 daily flights and nearly two dozen nonstops from all over the U.S., making it a convenient destination for our 2020 conference guests. More than 50 airports nationwide offer either nonstop or one-stop flights to Reno-Tahoe International Airport. With one-stop access through 10 major hubs, visitors to Reno can connect to hundreds of domestic and international destinations, making travel to the region easily accessible.
The theme for NICOA's 2020 conference is "Resilience for Tomorrow… Together." Additionally, 2020 will be a major election year and NICOA's conference will offer the opportunity to elevate issues in American Indian politics and legislation. The conference will also focus on issues such as health, safety, financial management, elder abuse, caregiving, employment, retirement, and the Older Americans Act.
Complete the proposal form and send in a brief description of your proposed presentation (no more than 150 words each) along with a brief biography (no more than 150 words) before the deadline of February 1, 2020. Contact NICOA for questions.

Click here for additional information.
NICOA Joins Brain Health Town Hall
Check out this recording from NICOA's special Telephone Town Hall livestream on Brain Health with AARP and the Global Council on Brain Health.
This video features NICOA Executive Director Larry Curley, along with AARP's Mashell Sourjohn of community outreach and Sarah Lock of Global Council on Brain Health. Together they discuss the five pillars of brain health and debunk myths about the aging brain.
Check out a recording from NICOA's special Telephone Town Hall on Brain Health with AARP and the Global Council on Brain Health. Find out how you and your loved ones can maintain your brain health as you age.
A Message from SCSEP
Summer is well underway and NICOA's Senior Community Service Employment Program (SCSEP) has finished making the rounds providing support and annual trainings for all the host agencies and participants.
You might ask, what is a host agency? A host agency is any not-for-profit agency or governmental agency where we place a SCSEP participant to upgrade or learn new employability skills. They're like a volunteer for the agency, but NICOA's SCSEP pays a minimum wage during their training period.
Each host agency assigns a supervisor to work with the participant to help them upgrade or learn new skills. While placed at the agency, the host agency supervisor supports the participant in learning skills that will help them get a job, as well as referring them to jobs they hear about in their community. It's an extra pair of hands during this time of funding cuts.
If you are interested in becoming a host agency or would like more information on NICOA's SCSEP, visit our website, call 505-292-2001 or send an email. If you are interested in participating in the program, fill out the pre-application form.
Sue Chapman
SCSEP Director
Partner Spotlight: Dress for Success
NICOA's Senior Community Service Employment Program (SCSEP) is working with Dress for Success Albuquerque to help women around the world reach economic independence. Dress for Success Albuquerque provides SCSEP participants with professional attire to secure employment. When participants are deemed job ready, they are referred to Dress for Success Albuquerque to obtain an interview outfit.
Dress for Success Albuquerque is part of an international nonprofit organization that assists women with professional interview attire along with career readiness skills and classes and networking contacts that prepare them to enter and progress in the workforce. The resources they offer have been a great benefit to SCSEP participants.

Click here for additional information.
A Message from the Elder Equity Program
Hi everyone!
We had an amazing experience at Indian Day during the National Senior Games here in Albuquerque. Working together locally and nationally we planned the first ever Indian Day on June 17. Over 100 American Indian senior athletes participated, and New Mexico elders took home 661 medals. Each day I witnessed elders full of energy and fun, sharing with others, and focused teamwork. Being strong is good medicine!
We are continuing to work on the Diverse Elders Coalition Caregiving Project and are currently seeking Albuquerque area family caregivers to take part in our focus group sessions. We have three dates available at 11:30 a.m.: August 14, 20 and 29. We will have a meal and discuss your experiences providing care to a loved one. As a thank you we will provide a $30 Walmart gift card. Please email me if you are interested or call 505-292-2001. Thank you!
Rebecca Owl Morgan
Eastern Band of Cherokee Indians
Elder Equity Project Coordinator
June 17 was a particularly special day of the Games — set aside to honor American Indian and Alaska Native elder athletes.
Elders Come for Indian Day
The National Senior Games Association (NSGA) came to Albuquerque from June 14-25, attracting a record number of 13,712 athletes from 50 states (plus an estimated 15,000 family members and friends), and setting more than 202 new records. This was the first year the Games were held in New Mexico, and it was the largest in National Senior Games 32-year history.
June 17 was a particularly special day of the Games — set aside to honor American Indian and Alaska Native elder athletes. With many details and logistical components, the event required a lot of planning and committees, both national and local. NICOA reached out to NSGA and began planning early. Our partners at the Albuquerque Area Southwest Tribal Epidemiology Center (AASTEC) joined as well.
Elements that we felt were important to include were: an honor guard, wise words from a respected leader, traditional cultural practices such as tribal dances, cooking and food sovereignty, a national broadcast with Native America Calling, education on fall prevention and warming up safely and digital stories showcasing why physical activity has been a key part of survival and resilience for Native peoples.
More than 100 Native elders registered for the biennial games — a number that contributes to the event's record-breaking year. Many athletes stopped by the NICOA exhibit booth for information about health and social services.

Click here to read more about the event, view photos or listen to Native America Calling's radio broadcast featuring Executive Director Larry Curley.
Seeking Participants for Caregiving Focus Group
Are you providing physical, emotional or financial support for an aging loved one?
NICOA is currently seeking American Indian adults age 18 and older who are caring for a spouse, partner, parent, grandparent, other relative, friend or neighbor to participate in a one-hour focus group to discuss your experiences.
Focus groups will take place at the National Indian Council on Aging (8500 Menaul Blvd. NE, Albuquerque, New Mexico) at 11:30 a.m. on August 14, August 20 and August 29. Food and beverages will be provided, along with a $30 Walmart gift card. These focus groups will be used to develop programs and tools to better meet the needs and understand the experiences of American Indian and Alaska Native caregivers.
If interested, please contact NICOA via email or call 505-292-2001.

Click here for additional information.
Do you care about helping to improve aging services for American Indian and Alaska Native elders? Then please

join NICOA

! We need you as an advocate. NICOA is the premier organization calling attention to the needs of elders.

Your involvement and support can bring attention, education, and improved services to elders across the country. Every elder should have the freedom to age in place and access services and resources in every community across Indian Country as well as urban areas.

If you're interested in learning more,

email NICOA

or call (505) 292-2001.
Extreme Heat Dangerous for Elders
Heat records are frequently breaking and with them come a rise of heat-related illnesses. Most aren't record-daily highs but record-high nighttime lows, and that lack of cooling can be dangerous, meteorologists say. According to the Centers for Disease Control, extreme heat kills more Americans each year than hurricanes, lightning, tornadoes and floods combined.
Older adults do not adjust as well as young people to sudden changes in temperature. According to the Centers for Disease Control and Prevention, older adults are more likely to have a chronic medical condition that changes the body's responses to heat and are more likely to take prescription medicines that affect the body's ability to sweat or control its temperature. Factors that can interfere with a body's ability to adapt to hot weather include age, obesity, dehydration, heart disease and medications.
Older adults are at increased risk for heat-related illnesses and complications. It's important to know the warning signs of heat-related illnesses and what to do if you notice symptoms.

Click here to learn more.
Storytelling in Native Healthcare
Storytelling is as much about education as it is about entertainment. It is through storytelling that each tribe's history and cultural traditions are passed down from one generation to the next. Stories not only reflect knowledge of communities, they also highlight core values that are important to tribal society. They offer tribes an auditory record of their traditional spirituality and history and can be a valuable tool for emphasizing health and wellness.
Sharing stories is a major consideration for providing health care at the Southcentral Foundation, which offers health services to American Indian and Alaska Native people in southcentral Alaska. The Southcentral Foundation bases its services on a foundation of trust between care providers and patients.

Click here to learn more.
Sleep is Crucial to Healthy Aging
It is a common misconception that sleep needs decline with age. The Centers for Disease Control and Prevention advises that 61-64-year-olds get seven to nine hours, and adults 65 and older get seven to eight hours.
Unfortunately, as people age they tend to have a harder time falling asleep and more trouble staying asleep. Older people spend more time in the lighter stages of sleep than in deep sleep. They also experience an overall decline in REM sleep and an increase in sleep fragmentation.
One National Institute on Aging study showed that 57 percent aged 65 or older experienced frequent sleeping disruptions. Only 12 percent of those surveyed reported no sleep disruptions. Aging also tends to increase sleep disorders like insomnia, sleep apnea or movement disorders.

Click here to learn more.
Emergency Preparedness in Indian Country
Preparing for an emergency before it happens ensures that plans are in place, equipment is available and ready to use, and personnel are properly trained. Research suggests that American Indian and Alaskan Natives are at higher risk of disaster exposure and are often disproportionally affected. The reported rates of psychological distress, substance abuse and/or dependence are twice as high among American Indian and Alaskan Natives as compared to the general population.
Ready.gov offers brochures and posters to help American Indian and Alaskan Natives, families and communities prepare for disasters. They are customized by region to reflect the diverse local conditions and cultures found in Alaska and Indian Country.
Partnership With Native Americans, a nonprofit serving immediate needs and supporting long-term solutions for American Indians living in reservation communities, is collaborating with Preparedness Matters to raise awareness about the realities of disaster aid on the reservations and distributing The Native Family Disaster Preparedness Handbook. The handbook provides culturally relevant guidance and tips for reservation-based families and tribes on how to prepare for and respond to disasters.
A new Capacity-Building Toolkit for including aging and disability networks in emergency planning is also available. This resource guides aging and disability networks to increase their ability to plan for and respond to public health emergencies and disasters. This toolkit helps programs that support older adults and people with disabilities through the emergency planning process of preparedness, response, recovery and mitigation activities.

Click here to learn more.
2020 Census Especially Important for Tribes
American Indian and Alaska Natives are the ethnic group with the highest undercount of any defined by the Census Bureau. According to the 2010 Census, roughly 26 percent of American Indians live in hard-to-count census tracts. More than 80 percent of reservation lands are ranked among the country's hardest-to-count areas.
The Census Bureau reported an undercount of American Indians and Alaska Native populations in the last three Censuses. In 1990, there was a 12.2 percent undercount of American Indians on reservations, a 0.7 percent undercount in 2000, and a 4.9 percent undercount in the 2010 Census.
The bureau is busy hiring people from within their own communities, which Indian Country Today says is critical. "Native American and Alaskan Native communities have been historically undercounted. So hiring people from the actual communities they are familiar with could help produce a more accurate count."
The first official count of the 2020 Census will take place in Tooksook Bay, Alaska, in January next year. Native American and Alaskan Native communities are at risk of receiving little resources if the census is inaccurate.

Click here to learn more.
Homeownership in Indian Country
Expanding affordable homeownership is a central component to sustainable economic and community development. Yet on many reservations, homeownership remains an unexplored option. For several generations, housing stock on American Indian reservations has been limited and deficient, adding to the already dire housing crisis throughout Indian Country.
According to the Census Bureau, in 2016, just 52.9 percent of all Native people were homeowners, down from 55.5 percent in 2000. Yet in tribal areas, 75 percent report a strong desire to own their home.
The Tribal Leaders Handbook on Homeownership provides a comprehensive guide to creating diverse housing choices for Native communities and to understanding the lending process in Indian Country. It provides a comprehensive overview of the mortgage lending process, addresses challenges to homeownership on trust lands, and includes "best practice" case studies that show how tribes overcame those obstacles through innovation and perseverance to create homeownership in their communities.
The Center for Indian Country Development and the National Native Homeownership Coalition have also launched the Native Housing and Homeownership Resource Clearinghouse, giving Indian Country tools to advance real change. Supplementing the Tribal Leaders Handbook on Homeownership, the Clearinghouse provides essential information on successful homeownership programs across Indian Country as well as loan programs, mortgage documents, tribal laws, videos and webinars.
Currency Reader Free to People With Visual Impairments
The U.S. Currency Reader Program provides a free currency reader device called the iBill® Talking Banknote Identifier to all qualified U.S. citizens or legal residents who are blind or visually impaired.
The currency reader is a small, compact, handheld device which quickly identifies the bill's denomination in one of three ways: a clear natural voice, a pattern of tones, or a pattern of vibrations for privacy. The vibration mode also assists people who are deaf and blind. The currency reader identifies all U.S. currency in circulation, to include the $1, $2, $5, $10, $20, $50 and $100 denominations.
To request a currency reader, individuals must mail in an application form, email meaningful.access@bep.gov, or call the U.S. Currency Reader Program office at 1-844-815-9388 and request that an application be mailed to you.

Click here to learn more.
Upcoming Events & Observances
5 Recent Tribal Newsletters
2019: International Year of Indigenous Languages
There are between 6,000-7,000 oral languages spoken worldwide. According to the United Nations, approximately 600 of them have disappeared in the last century. They're disappearing at a rate of one language every two weeks. No less than 40 percent of languages spoken in 2016 were in danger of disappearing, many of them indigenous.
Presently, we're in danger of losing 2,680 languages. The UN predicts that 50-90 percent of Indigenous languages will disappear by the end of this century, being replaced with English, Mandarin or Spanish. Any language spoken by less than 10,000 people is in danger.
In 2016, the UN proclaimed 2019 to be the International Year of Indigenous Languages with the aim to raise awareness of Indigenous languages to benefit those who speak them and teach those who don't about the contributions they make to world. According to the 2019 International Year of Indigenous Languages, "the International Year is both an important mechanism for international cooperation and a year-long celebration."
About 97 percent of the world's population speak only 4 percent of its languages, while only 3 percent of the world speaks 96 percent of all languages. Most of these languages are spoken by Indigenous people. There are 370-500 million Indigenous people in the world, 5,000 different Indigenous cultures and 90 countries with Indigenous communities.

Click here to learn more.
In their 2013 lawsuit, the Agua Caliente Band of Cahuilla Indians claimed that the Desert Water Agency and the Coachella Valley Water District had infringed upon their rights by over-pumping groundwater from the Coachella Valley's aquifer in southern California.
The landmark case determined that the Tribe has reserved rights to the aquifer below the reservation's land, dating back to the federal government's creation of the reservation in the 1870s. However, other key parts of the case were dismissed in April of this year by a U.S. District Court Judge who ruled that the tribe did not have a claim of harm because it always had enough water, and the water met applicable water-quality standards.
Now the federal government is urging the judge to reconsider and intends to make its case that the ruling should be reversed. A hearing is scheduled for August 19. If the Agua Caliente tribe wins, one of its priorities would be to start treating the Colorado River water that flows to the Coachella Valley and is used to replenish the aquifer.
In 2016, after the Washington State Department of Fish and Wildlife (WDFW) illegally seized and destroyed four totes of their shellfish bait, Tulalip Indian fishermen Hazen Shopbell and Anthony Paul went to court. Earlier this month, the Skagit County Superior Court Judge terminated felony cases against both fishermen after finding that the WDFW violated their constitutional rights by seizing and destroying over a thousand pounds of Tulalip Treaty harvested bait clams without a search warrant.
The judge also considered Shopbell's arguments that Skagit County's prosecution violated the Point Elliott Treaty and landmark Boldt Decision, United States v. State of Wash. Skagit County immediately appealed the decision to the Washington Court of Appeals.
In November 2018, Shopbell and Paul filed a federal civil rights lawsuit against WDFW alleging that they "have levied a full-fledged assault under the guise of a criminal investigation," with the intent of attacking Indian Treaty fishing and destroying "intra-tribal and inter-tribal Treaty fish distribution and commerce." The federal civil rights case is set for trial in October 2020.
The Nez Perce Tribe, along with environmental groups Pacific Rivers and Idaho Rivers United, are confronting Idaho Power Company's attempt to relicense its three-dam Hells Canyon Complex. Their lawsuit challenges Oregon's water quality certification of the dams for what they say is a failure to provide fish passage and adequately ensure water quality standards for temperature and mercury.
Idaho Power is seeking a new 50-year license for dams that were built between 1958 and 1967. They've been seeking a new license from the Federal Energy Regulator Committee and operating on temporary licenses ever since.
Before the Federal Energy Regulator Committee can issue a new 50-year license to Idaho Power, the Oregon Department of Environmental Quality must certify — under the Clean Water Act and Oregon state law — that the Hells Canyon Complex's activities will not violate Oregon's water quality standards. Lawsuits by the Tribe and environmental groups allege that Oregon Department of Environmental Quality's certification is deficient because it doesn't address fish passage and fails to assure that the Hells Canyon Complex will not violate Oregon water quality standards for methylmercury and temperature during the new license.

Click here to learn more.
Blue Cornbread
Recipe from Chef Lois Ellen Frank, Red Mesa Cuisine
1 cup blue cornmeal
1 cup all-purpose flour
3 Tablespoons sugar
1 1/2 teaspoons baking powder
1/2 teaspoon baking soda
1/2 teaspoon salt
2 eggs
1 3/4 cups buttermilk
2 Tablespoons unsalted butter, melted
"Preheat oven to 425 degrees Fahrenheit. Grease 2 corn stick pans, 9-inch cast iron skillet or cake pan. In a large bowl, mix together the cornmeal, flour, sugar, baking powder, baking soda and salt. In a separate bowl, mix together the eggs and buttermilk. Gradually stir wet ingredients into the dry ingredients. Mix well.
Then add the melted butter and gently stir again. Do not over-stir the mixture — the breadsticks taste better if you just gently stir in the melted butter at this point.
Spoon the batter into the prepared pan(s) and bake until firm — 25 to 30 minutes if using a cake pan or skillet and 10 to 15 minutes if using corn stick pans. The bread should be golden brown and spring back when touched.
Makes 1 pan of cornbread or 14 corn sticks."
Three Sisters Stew With Pinto and Kidney Beans
Recipe from Chef Lois Ellen Frank, Red Mesa Cuisine
1 large yellow onion, chopped
1 green bell pepper, seeded and chopped
Olive oil cooking spray to coat cast iron pot
2 cups chopped fresh Roma tomatoes or one 28-ounce can of whole peeled tomatoes with basil
2 1/2 cups cooked organic dark red kidney beans
2 1/2 cups cooked organic pinto beans
2 cups cooked corn kernels (fresh, frozen or canned)
2 cups green zucchini squash, cut into small cubes
3 tablespoons dried red mild chile powder
1 teaspoon salt
"Heat the cast iron or soup pot over medium-high heat. Add onions, sauté for 2 minutes until translucent, then add green bell peppers and sauté another 2 minutes. Cut each of the whole tomatoes from the can into 8 pieces (a large dice) and add them to the onions and green bell peppers.
Cook for another 2 minutes, stirring constantly. Add the zucchini squash and sauté for another several minutes, stirring constantly to prevent burning. Add the kidney beans, pinto beans and the cooked corn and stir well.
Bring the chile beans to a boil, and then reduce heat to low. Stir in the dried red chile powder and salt. Let simmer for 20 minutes, stirring occasionally to prevent burning. Serve hot with no fry bread, homemade corn or flour tortillas.
Serves 8 to 12 people."
Do you have any healthy, traditional recipes to share, or any stories or tribal news to contribute?

Send them to NICOA

and they may be featured in our next newsletter.
NICOA needs your financial support, as the advocacy and political work we do for our elders is not free. Grants that have helped fund NICOA are now under threat in Washington, D.C. Help us continue to serve our elders by donating at
nicoa.org/donate
.
We would like to hear from elders, service providers, and tribal programs serving American Indian or Alaska Native elders. You can

email NICOA

or send information by mail to National Indian Council on Aging, 8500 Menaul Blvd. NE Suite B-470, Albuquerque, NM 87112. We ask that you please share this
newsletter with anyone with a limited or nonexistent internet signal.



Was this newsletter forwarded to you?



Click here to become a subscriber

.

Big changes are coming to NICOA. Watch for our next newsletter on October 28.